Kate Middleton in red McQueen dress matching hat and nude shoes for Jubilee
Kate Middleton as usual looked stunning at the Royal Jubilee pageant. The 30-year-old wore a red pleated, dropped waist dress, matching red hat and nude shoes.
The pleated, bright red dress is reportedly Alexander McQueen, the same label that made the Duchess of Cambridge's wedding dress last April.
Kate teamed the outfit with LK Bennett platform shoes and Kiki McDonough citrine earrings.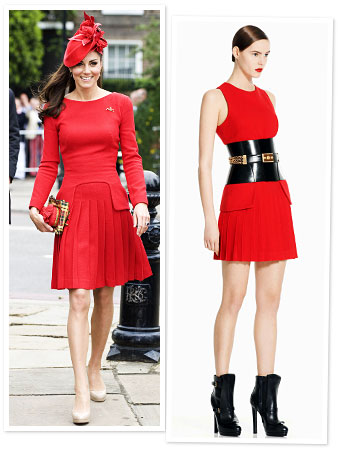 The Duchess stepped on to the Spirit of Chartwell in the scarlet outfit with matching hat providing a splash of colour on the Thames. She was accompanied by Prince William in his military dress. The boat (ship?) will take the senior royals on the parade including the Queen herself, the Duke of Edinburgh, Prince Harry and the Prince of Wales.
Kate wore a maritime-themed brooch featuring two silver dolphins which was a gift from the Royal Navy Submarine Service.
Kate is taking part in the Thames Diamond Jubilee Pageant to celebrate the 60-year reign of The Queen. It will run from 2pm to 6pm and there is a massive assortment of boats covered with flags and streamers despite the rain.
Kate's hat is the 'Sylvia Fletcher' by James Lock. We have spotted the same dress without sleeves on both Kim Kardashian and Tulisa.
Join 606+ members of the Stylejacking.com Community